In order to ensure appropriate social distancing and have all recommended safety precautions related to Covid-19, please reserve a place for in-person worship at the church site.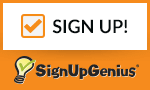 https://www.signupgenius.com/index.cfm?go=c.SignUpSearch&eid=00CACDDFFDC8FC61&cs=09C3BAAE8FB98B137B7B640F5BB59BCF&sortby=l.title

You may also reserve your spot by calling or emailing the church office.
If you make a reservation online, please do not hesitate to call or email the church office
and the Parish Administrator or Rector will be happy to confirm your reservation.
For more information, please click here to see the In-Person Service Requirements